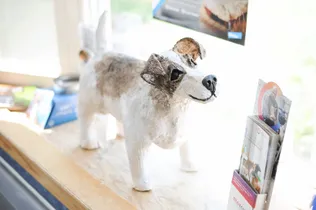 Routine and Preventive Medical Services
Our experienced client service representatives and skilled treatment team will make every effort to accommodate our clients' requests for the scheduling of appointments.
A primary component of our practice protocol is to establish a treatment program for each patient. Each treatment plan is customized to our patient's needs and our client's objectives, and we focus on preventive treatments as well as medical care for any chronic conditions. We regularly follow-up with our clients to check on our patients' progress at home following treatments to reinforce our doctor-client-patient relationships.
---
Affordable Spay and Neuter Packages
Companion Package: If you are looking for an affordable spay or neuter for your pet, we offer a package to meet your needs. The package includes pre-anesthetic bloodwork, pre-operative pain medications and sedation, surgery, anesthesia, intubation, gas anesthesia (spays, canine neuters), monitoring, nursing care, post-operative pain medications (spays, canine neuters), and a post-operative therapeutic laser treatment (spays, canine neuters).
**Dogs must be over 4 months of age to qualify. Any additional services will be charged at normal price. Cryptorchid neuters will require additional charges. Doctors have right to refuse surgery based on medical risk, and/or underlying disease. In Heat female dogs will require additional charges.
Canine Spay (under 50 lbs)- $213.51
Canine Spay (50-75 lbs)- $271.44
Canine Spay (75-100 lbs)- $330.47
Canine Spay (Over 100lbs)- $370.57
Canine Neuter (under 50 lbs)- $196.81
Canine Neuter (50-100 lbs)- $219.09
Canine Neuter (100-150 lbs)- $274.78
Canine Neuter (Over 150 lbs)- $308.19
Feline Spay (any size, any age)- $158.16
Feline Neuter (any size, any age)- $105.82
Feral Package: This package is designed for someone who has a feral cat population that they want an affordable way to get a handle on. This package includes sterilization, ear crop, and a 1-year rabies vaccine. Other services will be charged at normal price.
Feline Spay- $120.30
Feline Neuter- $85.92
---
Other Services in our Hospital
Routine/wellness check-ups
In-house Pharmacy (Please call 24 hours in advance for refills!)
Comprehensive physicals
Second opinion consultations
Vaccinations: puppy & kitten packages available
Internal medicine
Diabetes management
Pain management
Senior pet care
Dietary consultations
Electrocardiography
Cytology
Urinalysis
Dermatology
Parasite control
Soft tissue surgery
Orthopedic surgery
TTA Repair
Medial patellar repair
Lateral Fabellar Suture (Extracapsular)
Laser Treatment
Tail docking
Digital radiology
Ultrasound
Micro-chipping
Anesthesia: Intravenous or Isoflurane Inhalant
Wound repair
Reproductive Medicine
Genetic Testing
C-Section
Fluid Infusion
Euthanasia
Domestic and International Health Certificates for Travel
Cremation services
Inpatient Hospitalization
Flea & tick prevention
Heartworm prevention
If you don't see a service listed that you are interested in, please call 540-434-6331 and talk with one of our helpful client service representatives. If we are unable to provide a service to your pet, we can help refer you to other professionals who can better assist your needs.
---