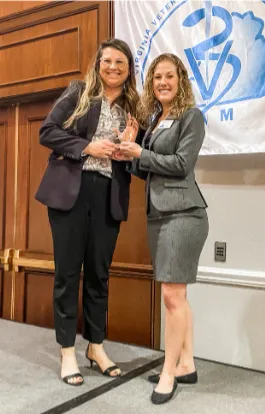 Virginia Veterinary Medical Association
Announces 2022 Distinguished Veterinarian Award
Dr. Maureen Ward Receives Award In Recognition For Standard of Excellence and Dedicated Service to Veterinary Medicine
RICHMOND, VA., March 25, 2022 – The Virginia Veterinary Medical Association (VVMA), a professional organization of veterinarians dedicated to enhancing the quality of human and animal life, announced Maureen Ward, DVM has received the 2022 Distinguished Virginia Veterinarian award for her exemplary service to the veterinary profession and to the VVMA. The award was presented at the Virginia Veterinary Conference in Roanoke, Virginia on February 25, 2022.
Dr. Maureen Ward, a 2009 VMRCVM graduate, earned this award through exemplary community service. She is known for maintaining a strong relationship with the community through sponsorships of local organizations and events as well as being an exceptional owner and leader of Harrisonburg Animal Hospital.
As a practice owner, Dr. Ward focuses on growth and the encouragement of the doctors and staff. Dr. Ward serves on the Curriculum Advisory Committee in Veterinary Technology at Blue Ridge Community College. She volunteers her time in elementary schools and local colleges speaking about the veterinary profession. Dr. Ward hosts both students from local high schools to shadow and veterinary technician students for summer internships. She also sponsored and helped create a veterinary medicine exhibit at the Explore More Discovery Museum to help young people explore their love of veterinary medicine. Dr. Ward is actively investing in and is making a significant impact on the future of veterinary medicine.
QUOTE:

"She is not only a talented veterinarian but also an exceptional leader and outstanding member of our community. As a leader she places top priorities on not only patient care and client relationships but, also the mental health and relationships with her employees. Dr. Ward cares for not only the furry members of the family but their human counterparts as well." - Dr. Brian Neumann
Harrisonburg Animal Hospital presenting sponsor of Blue Ridge Community College Veterinary Technician Program's 50th Anniversary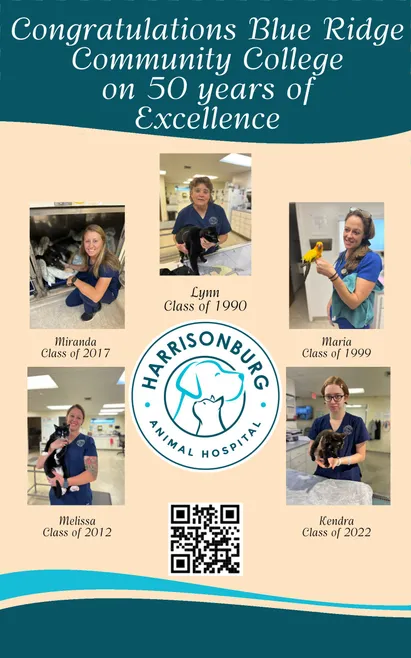 Harrisonburg Animal Hospital Participates at Harrisonburg High School STEM Career Fair
Dr. Revercomb and Dave spoke with students from HHS about veterinary careers!
https://www.whsv.com/2022/04/05/high-school-students-host-attend-career-fair-harrisonburg/?fbclid=IwAR1XswBYuyq6FoS2NB0g_KE3IzzO9mbuVLp1m2lUsARrxvITxXK0BC-lU2g
Harrisonburg Animal Hospital wins "Shenandoah Valley's BEST" award for second year in a row!

This competition is voted on by local area residents, and HAH was voted the best Veterinarian for 2022, following up from the same award in 2021.
https://www.shenandoahvalleybest.com/categories/2022

Here are just a few of the community groups Harrisonburg Animal Hospital Supports